Top 10 Rome Attractions
The Italian capital is a city bursting with historic attractions, sites, landmarks and beautiful places to visit in Rome and no visit ever feels long enough. To help you see the best Rome attractions and use your time wisely, here are some top 10 things to do in Rome which won't have you maxing out your credit card. You don't need to splash out to have fun and it's easy to make your travel fund stretch here, so visit Rome landmarks like the Colosseum for free, eat a cheap local pizza and see some of the best views in the world without breaking the bank. Check out our favourites below.
Colosseum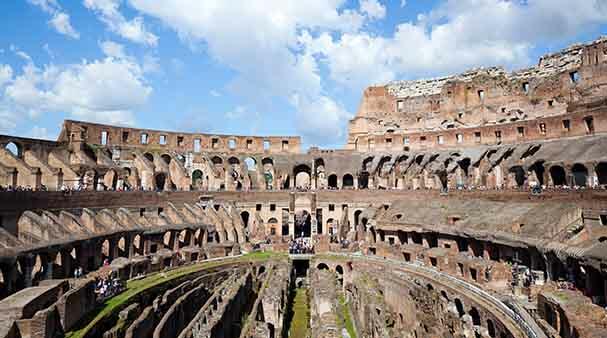 The Colosseum is one of the most iconic landmarks in Rome and it's a must-visit on your trip to Rome. This should be first on your list of Rome attractions to visit as a historic site and one of the city's most significant Rome landmarks, where both emperors and commoners came together as one. As the former site where brutal gladiator fights took place, tourists can now walk along the ancient tiers and corridors that date back over 2,000 years and learn about what really went on as life as a gladiator through fascinating exhibits. See the armour they used to wear and weapons each gladiator fought with depending on their rank and training.
Address: Piazza del Colosseo, 00184 Rome
Metro: Colosseo (Metro line B)
Visit duration: 2 hours
Roman Forum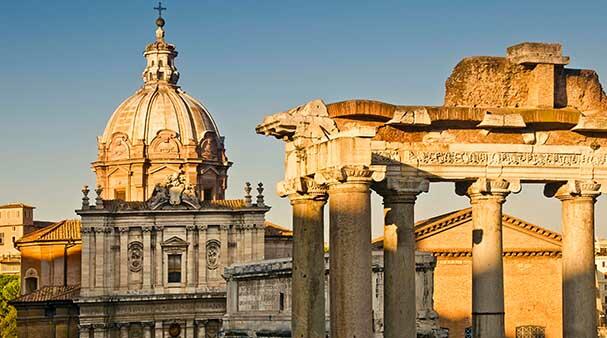 The Roman Forum is one of the most impressive Rome landmarks and a stunning testament to the beauty of the ancient capital. Once a bustling market place, you can walk along the cobbled streets and see how the Ancient Romans once lived their day-to-day lives as merchants and traders. The historic structure's arches and pillars are a reminder of the grand empire that once was and it's one of the most impressive places to visit in Rome. Look out for the Arch of Septimus Severus, Temple of Romulus of the main square.
Address: Via di San Gregorio, 30 - 00184 Rome
Metro: Colosseo (Metro line B)
Visit duration: 2 hours
Borghese Gallery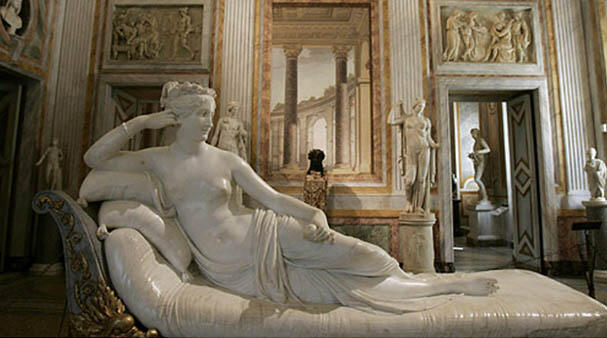 The Borghese Gallery is one of Rome's finest art galleries and anyone looking for cultural places to visit in Rome should make this a priority. Set in the heart of Rome's most loved parks and beautiful buildings, the Villa Borghese, the Gallery is the oldest private collection of art – dating back to Scipione Borghese in the 16th – 17th century – who was also the patron of Caravaggio and Bernini whose pieces feature heavily throughout.
Address: Piazzale del Museo, Borghese, 5 - 00197 Rome
Bus: Pinciana- Museo Borghese
Visit duration: 2 hours
Eat a Gelato
You'll never be short of a gelateria in Rome. The sweet ice cream and sorbets can be found around the city, each vying to outdo each other on their range of flavours. From the renowned Giolitti situated around the corner from the Pantheon to hidden away Gelateria del Teatro, it's worth trying every flavour you have room in your stomach for - and believe us, there's a wide range. Why not experiment with lavender or peach for a refreshing taste of summer or more decadent flavours like tiramisu and hazelnut?
Sistine Chapel and Vatican Museums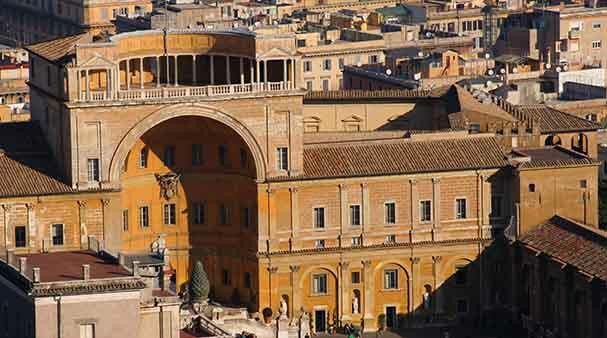 The Sistine Chapel in the Vatican is one of the best things to do in Rome – if not in the world! Michelangelo's The Last Judgement is famous around the globe and you must see it on your trip to Vatican City to appreciate the sheer skill that went into its creation over 400 years ago. Within the Vatican Museums, you can also see the history of the Papal lineage – covering over 9 miles – including busts, sculptures, tapestries and paintings. As one of the best places to visit in Rome, it can get quite busy so be prepared to set most of the day aside for this one.
Address: Viale Vaticano, 00165 Roma
Metro: Ottaviano-S.Pietro-Musei Vaticano (Metro A line)
Visit duration: 4 hours
St Peter's Basilica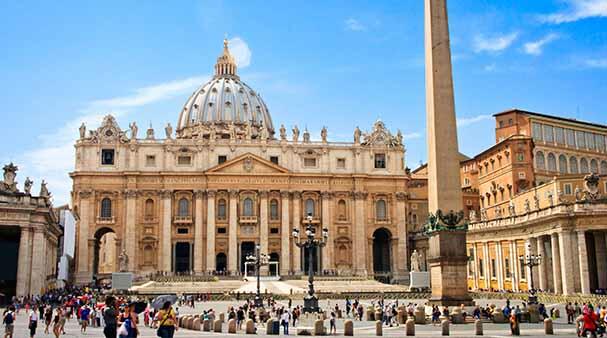 St Peter's Basilica is a stunning historic building in Rome and one of the most important religious places to visit in Rome, welcoming thousands of pilgrims a year. As one of the most famous churches in the world, St Peter's boasts the largest dome in history, as well as a huge Baroque Baldachin under which the Pope gives mass. Climb to the top of the dome for breath-taking views over the city and St Peter's Square.
Address: Piazza San Pietro, Vatican City
Metro: Ottaviano-S.Pietro-Musei Vaticano (Metro A line)
Visit duration: 2 hours
Eat a Roman-style pizza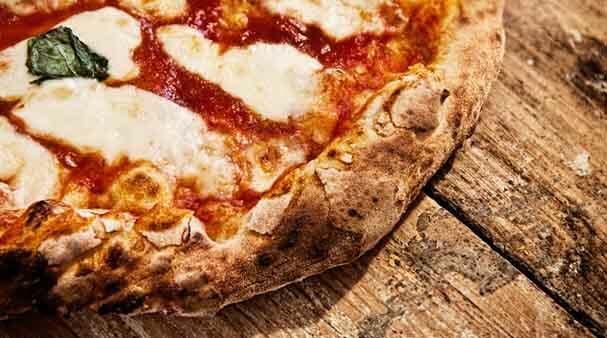 Rome and Pizza go together, hand in hand. And like gelaterias, you won't struggle to find a slice or two during your visit. The Italians have pizza al taglio which simply means by the slice so you can find a small, open countered pizzeria and pay by the measure. That means you can try more flavours, too! Alternatively, head into one of the many trattorias for a pizza and you'll fall in love with the soft doughy crusts and delicious mozzarella.
Discover the skyline of Rome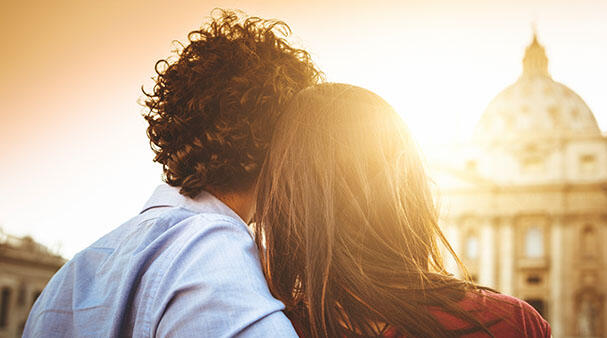 The Janiculum Hill (or Gianicolo) in Rome is the second tallest hill in the city. This means that you are guaranteed unparalleled views from this western vantage point over Rome. This summit is loved by visitors and locals alike who climb up to watch the sun go down, or visit at night, buy a Peroni or two and take in the views over the city – illuminated in the dark.
Address: Passeggiata Del Gianicolo, 00165 Rome
Bus: Piazzale Garibaldi
Visit duration: 2 hours
Fontana di Trevi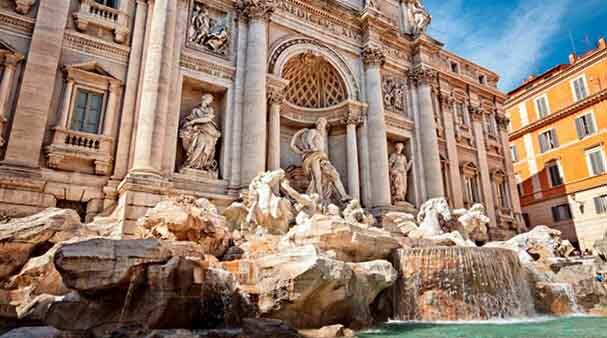 The Trevi Fountain is one of the most impressive Baroque sculptures and Rome landmarks. Built in the 1760s it's now one of the most famous fountains in the world and frequently tops lists like this one as one of the best places to visit in Rome. Legend has it that if you visit and toss a coin over your left shoulder, you're guaranteed to return to Rome! Visit it at night and you can see the white marble and pool illuminated – a great photo opportunity.
Address: Piazza di Trevi, 00187 Roma
Metro: Barberini (Metro line A)
Visit duration: 1 hour