Rome is located just so that it is great for short day trips out of the city in less than two hours travel time.
Rome has a whole historic area to be discovered in Ostia and the Appian way, as well as other great destinations for the summer, like the Ostia Lido with long sandy beaches and seaside bars.
If you're staying in the city for a bit longer, it's well worth planning some day trips from Rome to explore more of the area.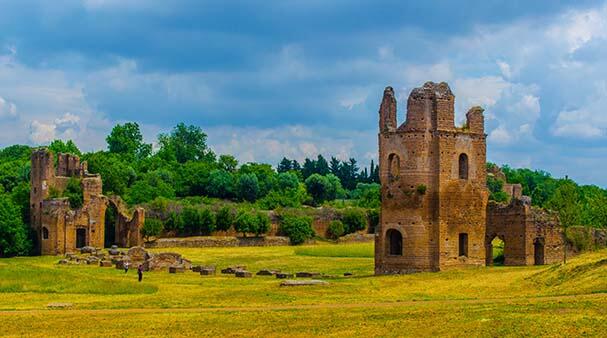 Appian Way
The Appian Way is one of the most impressive historic ruins in Rome and is one of the earliest stretches of straight roads in Rome, dating back to 312 BC. The road was originally used as a military road which is why it needed to be as straight and strategic as possible, later aiding in the victory of the Second Samnite War.
Visitors can still see the ruins and old road still intact – and set in a public park it makes for a great day out and a beautiful spot for a picnic.
Address: Via Appia Antica, Roma
How to get there: 118 bus from Circo Massimo Metro Station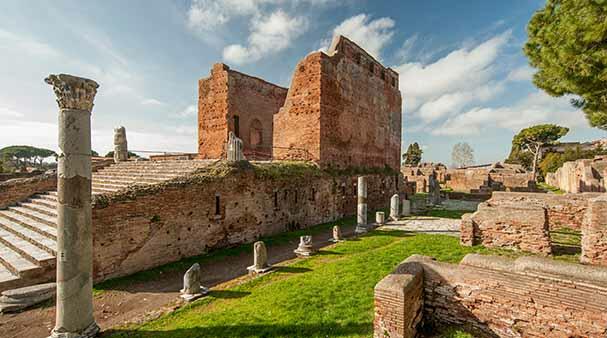 Ancient Ostia
Ostia Antica, or Ancient Ostia, is Rome's ancient harbor city – before the river moved over the years to where it lies now. Ostia means 'mouth' in Latin and was the mouth of the River Tiber.
The oldest settlements, most believe, date back to between 396 and 267 BC and it was mainly a military center until the early Imperial period where there is evidence of a theatre and the growth of the Forum, where commerce and trade took place. For anyone interested in history, it's a fascinating
Address: Ostia Antica, 00119, Rome
How to get there: Roma-Lido station (by Piramide) and get off at Ostia Antica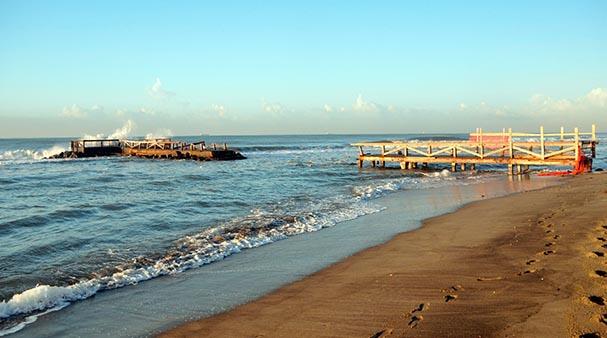 Ostia Lido
Ostia is the Romans' go-to summer destination. Just 30kms away from the city center by train, this seaside resort brings both Italian tourists and locals alike to its sandy shores. The town itself is relatively small, with typical Art Deco buildings along the coast and more Fascist-style buildings towards the fringes.
During the summer months, it's a great place to spend the day, bring your towel and enjoy the many seaside restaurants and bars to take you through the day and into the night. If you're staying for longer there are many B&Bs and hotels to choose from for a short stay.
Address: Ostia Lido, Rome
How to get there: Roma-Lido station (by Piramide) and get off at Ostia Lido Centro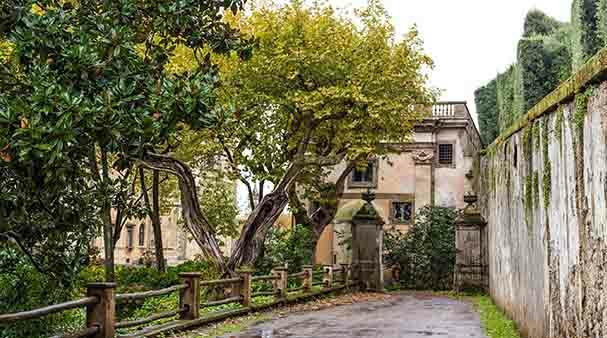 Castelli Romani
The Castelli Romani are a cluster of wine-producing towns southeast of Rome, set in the volcanic area of Colli Albani. It's a pleasant escape from the hot summer months, with its natural lakes and beautiful mountains with a national park.
One of the most popular towns in the area is Frascati – known mostly for its wine! It's a beautiful hillside town where you can sit out at pavement restaurants, drink wine and indulge in fine food.
Address: Frascati, Rome
How to get there: Train to Frascati from Termini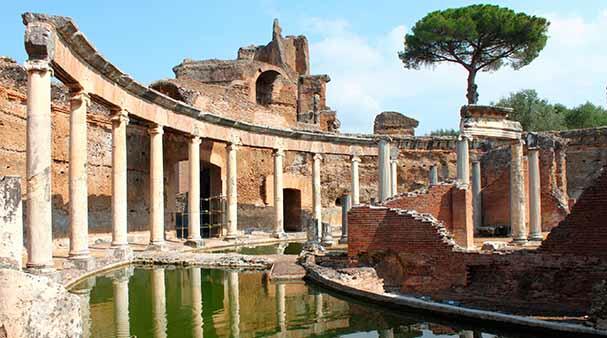 Hadrian's Villa
Villa Adriana, or Hadrian's Villa, is one of the most beautiful complexes of Roman ruins you can visit. Situated in Tivoli, you can wander through the classical buildings still standing and exemplary of the times in which they were built.
Having been built in 2AD, it is the perfect ancient city with architectural styles from Egypt, Greece, and Rome and its statues and monuments give it the status as a World Heritage Site – and rightly so. Spend the day discovering the beauty of this ancient villa from its thermae, to its theatre, temples, and staterooms.
Address: Largo Marguerite Yourcenar, 1, 00010 Tivoli RM
How to get there: COTRAL buses to Tivoli from Ponte Mammolo station