Go off the beaten track and discover a hidden world in the catacombs of Rome
Rome is a beautiful place to bask in ancient architecture and strolling its streets never get old, however there's an entirely different world waiting below its surface. This ancient city has an entire network of catacombs criss-crossing beneath the streets that taxis and buses now frequent, named for religious heroes and filled with the residents of a time gone by. With five different locations open to the public, you'll definitely want to put your walking shoes on for these eerie expeditions. Here's everything you need to know about the catacombs of Rome below...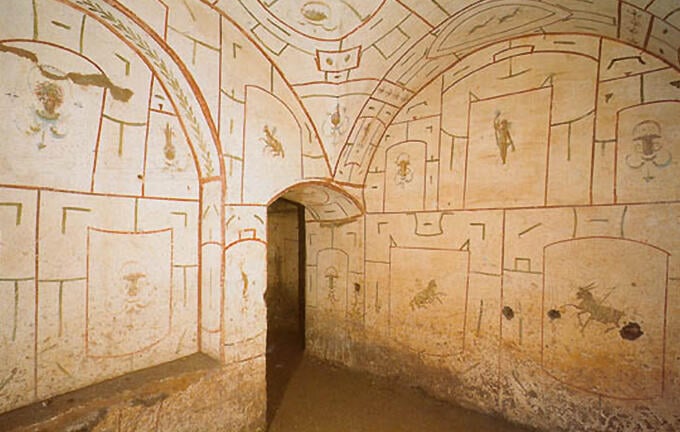 San Sebastian Catacombs Rome
As one the most famed catacomb sites in Rome, this underground burial site spans over 11 kilometres - though you'll thankfully only get to explore a small fraction of it. Covered in Christian paintings, they're regarded as the best in Rome and were named for a martyr named Saint Sebastian. A former soldier, he was later clubbed to death after his Christian faith was discovered before he was laid to rest in these very catacombs. Open between Monday and Saturday, it's a place of particular interest to those of the Christian faith as the graffiti that lines the wall references the apostles Peter and Paul. In fact, the reason the place became so closely tied to the two was because it was apparently impossible to visit their actual tombs - so this became a popular place to pay respects to them While you're here, make sure to make time for the San Callixtus catacombs - they're nearby and absolutely amazing so you have no excuse.
San Callixtus Catacombs
The sheer scale of these catacombs is more than enough reason to head over here. With four floors and nearly twenty kilometres worth of exploring to do, it's a vitally important religious site as a number of saints and popes have been buried here. While it was originally both an above and below-ground structure, most of the bi For those of you who love a song and dance, you'll want to stop by and pay your respects to St Cecilia - the patron saint of music buried here. It's also a great shout for art lovers as it's packed with small art galleries, filled with Christian art and frescoes to bask in. Open Thursday to Tuesday, it's a popular destination and should be top of your list if you only have time for just the one.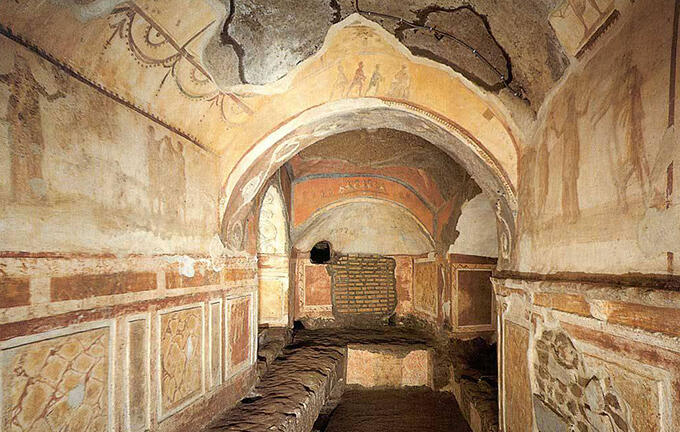 Saint Priscilla Catacombs
This catacombs is widely regarded as the 'regina catacumbarum', or rather, the 'queen of the catacombs' when translated into English. Dating back to second century AD, it expanded monumentally over time and owes its name to a noblewoman called Priscila who is believed to have donated the field the catacombs lie under. With many martyrs buried here, one of the biggest highlights of the tour is an image of the Virgin Mary which is believed to be the oldest ever.
Catacombs of Domiitilia
This is apparently one of the oldest catacomb sites in Rome, if not the oldest in the capital. Although it's absolutely massive, only a few of the tunnels are open to the public. While there aren't as many out and out highlights as the others, there are some stunning artworks of biblical stories like the Last Supper. Two of the most famed martyrs to be buried in these catacombs are two people named Nereus and Achilleus, both ancient Roman soldiers.
Where are the catacombs in Rome?
This is a little tricky to answer as there's a number of catacombs dotted around the city. In fact, there's sixty of them all over the Italian capital. However, you don't have to worry about making time to see all of them as only five are open to the public. The most famous are the San Sebastian Catacombs Rome, named after San Sebastiano - a martyr who was buried there and who's also the namesake for the Basilica of St. Sebastian. Located at Via Appia Antica, 136, you'll also be able to knock out the Catacombs of San Callixtus nearby at Via Appia Antica, 126. Further afield, the Catacombs of Saint Priscilla are in Via Salaria, 430, the Catacombs of Domitilia in Via del Sette Chiese, 280 and the Catacombs of Sant'Agnese at Via Nomenata, 349.