Ah, Rome. One of the best ways to see this ancient city is by foot as there's a surprise on every corner and given that many of its big tourist attractions are quite close together, a good itinerary will save you money flitting back and forth.
We've put together two of our favorite Rome walks which will take you from the Spanish Steps to the Colosseum in no time and hit all the big attractions in between.
Bring some good shoes, you'll need them.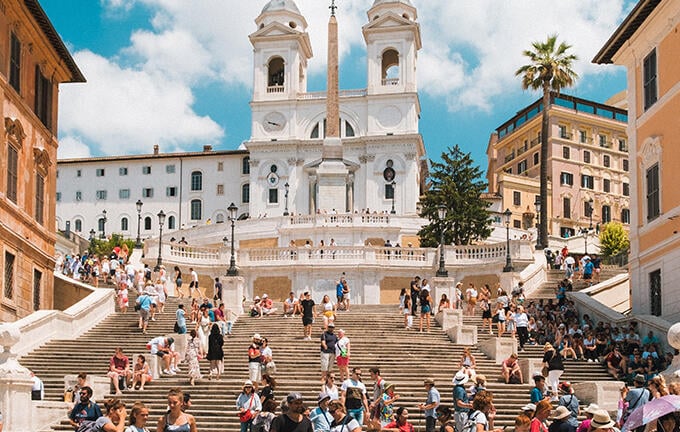 Spanish Steps to Trevi Fountain to The Pantheon
Start things off like Audrey Hepburn in Roman Holiday at the Spanish Steps, one of Rome's biggest landmarks. Dating back to 1723, this grandiose staircase has attracted many and it's worth nipping into the nearby streets to explore the boutiques and cafes for a souvenir or three.
Once you've wrapped up at the Steps, it's pretty much a straight line towards the Trevi Fountain. Walk past the Keats/Shelley house nearby the base of the steps and walk south along the Piazza di Spagna.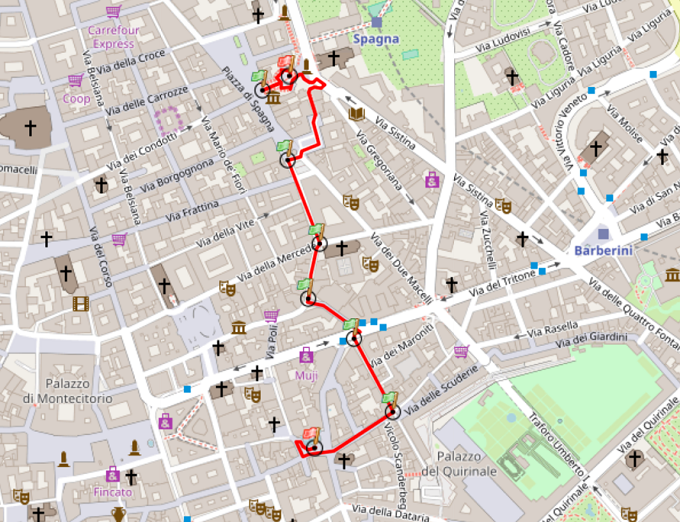 It will eventually give way to the Via di Propaganda and you'll spot the Sant' Andrea delle Fratte Basilica church on your left, continue going straight on Via di Sant'Andrea beside it. When the road forks, go left onto Largo del Nazareno and then continue onto Via del Nazarano. After that, turn right Via della Panetteria, right onto Via della Stamperia and keep walking straight until you hit the Piazza di Trevi. It's not going to come as a huge surprise that the Trevi Fountain will be waiting for you there and it's pretty easy to spot, as there's usually a big crowd congregated round the massive ivory structure.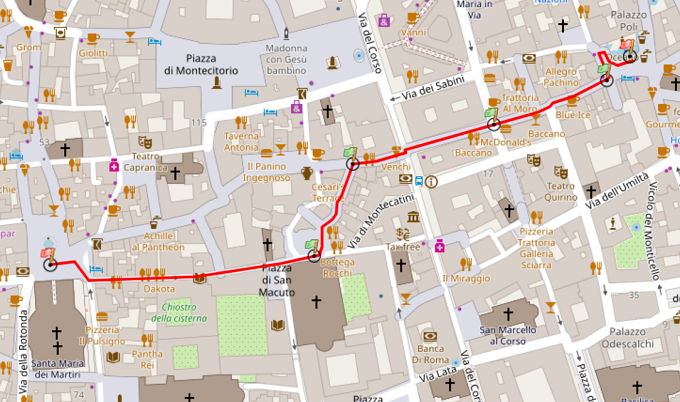 After you've taken your photograph and taken part in a very Roman tradition (tossing a coin into the fountain), head towards Vicolo del Forno. Continue onto Via delle Muratte and walk past the McDonald's, onto Via di Pietra and finally left into a narrow street called Vicolo de Burro. Continue onto right onto PIazza S. Ignazio, then left at the end of the road and right onto Via del Seminario. Then just walk straight until you see the gigantic facade of the Pantheon rise up in the distance, it'll be on your left. All in all, the total walk should take between twenty to thirty minutes — of course, if you're stopping off at the sights then it's going to take a little longer.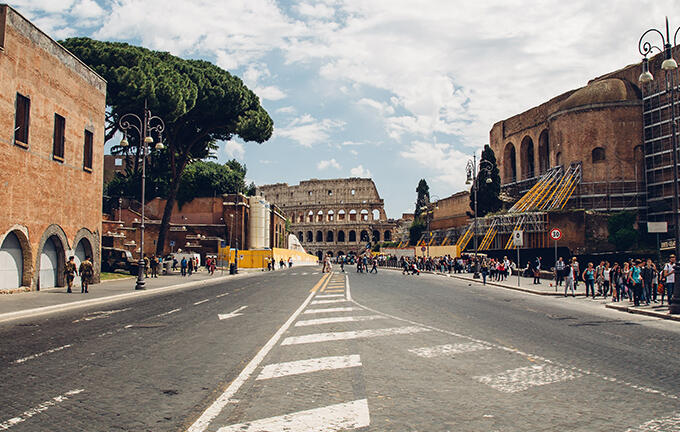 Trastevere to the Capitoline Museum, Roman Forum and Colosseum
A lazy morning in Trastevere is a gorgeous way to start the day, as it's one of Rome's coolest districts and it's packed with no end of restaurants perfect for a spot of brunch and coffee. Once you've finished up and spent time getting to know the area, return to the Basilica of our Lady in Trastevere — located in one of Trastevere's biggest squares. With your back to the church entrance, turn left and walk till you reach Piazza di Santa Maria. From there, turn right and go past Ristorante Sabatini, past Antica Osteria Rugantino until you hit a major dual carriageway called Piazza Sidney Nonnino. Cross the road, turn left and walk over the bridge (Ponte Garibaldi) which crosses the River Tiber. You'll then hit Lungotevere de Cenci, which you should follow along the length of the river until you hit a turn off for Via del Foro Olitorio. At the end of the street, turn left onto Via di Teatro di Marcello, then right onto Piazza del Campidoglio. This is when a lot of stairs get involved, as you'll then start your climb up to Capitoline Hill which you'll easily spot by the gigantic white statues that line the walk to the entrance.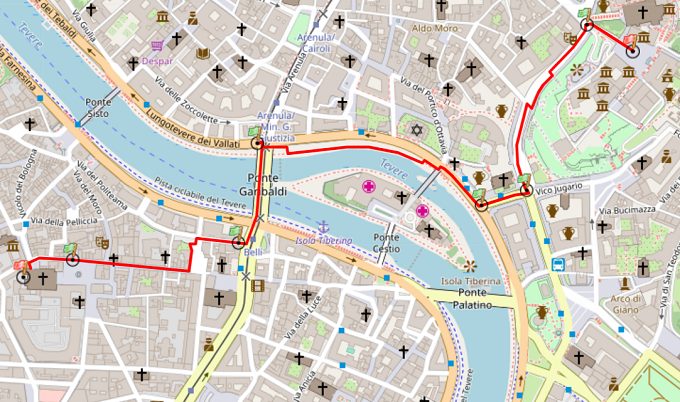 Once you've finished with the fascinating ancient museum, stand on the hill and take in the ruins of the Roman Forum from a distance. You can choose to walk down and around to explore it properly, however this walking tour will take you up to the Colosseum first. Take the stairs to Via del Campidoglio (located at the edge of Piazza del Campidoglio) walk along it. It'll eventually give way to another street called Via di St Pietro which you'll want to continue along, then turn right onto Via dei Fori Imperiali. You'll be able to see the Piazza del Colosseo and the imposing structure in the distance, so just continue towards it — you literally can't miss it!